Afternoon tea
with Jane Austen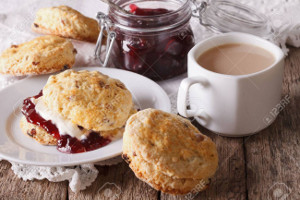 If you've read Jane Austen or seen the TV adaptations of her novels, you may have noticed that they were often having tea. When I was in the UK, I came to learn that tea drinking was a very important social ritual that I had to come to terms with. Along with the afternoon tea, one usually serves scones clotted cream and jam. This is one of the very nice uses for the jam you've made during the
berry season
, to serve it with scones and clotted cream as part of an afternoon tea. If you haven't tasted clotted cream, it is very much like single or double cream, except thicker and sweeter. Although it has a high fat content, it doesn't feel like butter, and it will just melt on your tongue like ice cream and be gone way too fast. This somewhat deceptive nature of clotted cream always makes me spread it too generously over my scones thinking it won't make me fat, but it is so good that the fear of calories has never really stopped me. Technically, if you don't serve anything else than scones, clotted cream and jam with the tea, it's called cream tea. Afternoon teas should also include other treats like tarts and cakes, a custom that could be compared to our Norwegian "kaffe", which is coffee served with a selection of cakes. Being so used to the Norwegian coffee tradition, it was somewhat of a change for me to find the coffee completely replaced by tea in the UK, but it was never a problem as I don't drink coffee. I must be the only person I know who does not, but I have a friend who practiced this until she had her first child, at which point she confessed she'd given in, warning me that the same thing would happen to me if I had children. The reasons why I don't drink coffee is because I don't like it, and I don't want it to get power over me making me have headaches if I miss my daily dose. Some people find their coffee too strong and add milk to it, but most Norwegians like their coffee black. In the UK they put milk in their tea as well, a custom that seemed completely bizarre to me at first. Who would want to ruin their tea with milk...? I was puzzled and piled it together with other strange things about the UK, such as driving on the wrong side of the road. During my time in the UK, I learned to really love tea though, and also realized that tea is not just tea, but rather a world of different and interesting flavors. Resultantly, I have become rather picky about my teas ordering them from special growers, preferably organic ones, and treat it as some kind of morning ritual to brew loose tea leaves filling the kitchen with subtle notes of bergamot and citrus. I also love chai tea, and this one I will put milk in, even cream if I have.
While I eased smoothly into British tea drinking, the English breakfast was another culinary tradition that took some getting used to. I am used to whole meal breads or oatmeal porridge in the mornings, and what the Brits had for breakfast, was dinner to me. It's funny how one acclimatizes and gets used to new things though, and it didn't take long before I insisted on having toast, eggs, bacon, sausages and beans etc. for Sunday brunches. But back to teas. There is also another tea called "high tea", which was the working class version of the afternoon tea. Somewhat surprising given the word high, but high in this context implies tea served at a high table or dinner table after work with more caloric dishes such as pies and baked beans meant to refill the energy supplies of people who worked all day. Afternoon tea is then also known as "low tea", and in contrast to "high tea", is taken at low posh coffee tables with fine English China in upper-class homes by people taking a break from polo matches and garden cricket games. If you feel this sort of foreign, just imagine scenes from the BBC adaptations of Jane Austen's novels. Think about Elisabeth Bennet and her sisters drinking tea with Mr. Darcy and his friend Mr. Bingley at Longbourn. I used to really like English in school and watching Jane Austen's Pride and Prejudice and Sense and Sensibility was a really nice way of getting the hang of the English language. I always recommend those series to people wanting to learn English as some words and phrases are bound to seep into their brains as they watch the captivating love stories glued to the screen until Mr. Willoughby and Mr. Wickham have been thrown out leaving Elisabeth with Mr. Darcy and Marianne with Colonel Brandon. One would think every girl took the opportunity to learn from Austen about the Willoughbys and Wickhams of this world, but that is sadly not the case. Willoughbys and Wickhams always manage to charm them, and most girls have to learn the hard way that Willoughbys and Wickhams won't make them happy. If they are wise, they will find the courage to leave Mr. Willoughby before they, like Marianne, take any harm. Unfortunately, most girls start out like Marianne in Sense and Sensibility, young, inexperienced and hopelessly in love with their Mr. Willoughbys. Like Marianne, they may be driven to madness by Mr. Willoughby's affairs and inconsistent affections. In the end, they may also like Marianne, be pushed too far, and in despair run out into the cold. But, and this is where young girls need to take notice, in real life there will be no Colonel Brandon to come and pick them up before they take too much harm from the cold, and so they better learn from the much wiser and more mature Elisabeth Bennet in Pride and Prejudice. I never saw someone telling guys off quite like Elisabeth Bennet. She was composed, uncompromising and spoke in the most eloquent English. I doubted I could ever manage that type of style in a similar situation, and so I memorized her words, just in case: And those are the words of a gentleman. For some time now, I have noticed your arrogance and conceit, your selfish disdain for the feelings of others, and it has made me realize that you are the last man in the world I could ever be prevailed upon to marry. My advice to other girls is to save these words for Mr. Willoughby, as he is the one who really deserves them.
So it isn't just language one can learn from Jane Austen, but it is in any case a nice way of getting an impression of British high society culture. Since I spent my undergrad years at Cambridge, I got a fair dose of the British high society. Quite a few lazy summer days were spent enjoying afternoon teas in gardens filled with ladies wearing their summer best and men in white suits and straw hats chatting about boat races and lunches at the Orchard in Grantchester, all nested up in a world enclosed by beautiful Chinese wisterias, lavender rows and stone walls covered in vine. To the British, afternoon tea is so much more than a meal, it's deeply ingrained in their culture and it was, as I said earlier, one of the things I learned to love. I loved clotted cream so much that I contacted Norwegian dairy producers suggesting they start producing it as well. So far, no reply. I can't understand why they don't think it is a great idea. I mean everyone wants low carb/high fat these days and the high fat clotted cream should just be perfect for all these paleo-hunter-gatherer-diet people, and so sales would be really good. Maybe I should have tried harder to convince them of the sales potential. For the time being though, they only come up with tasteless zero fat products that seem like production leftovers they should actually have thrown out. I tried making fake clotted cream myself using mascarpone cheese, but it was a huge disappointment. Later, I became really optimistic when I went to the U.S. thinking they'd have it there, but I couldn't find it. Instead, I found fresh almond milk along with other treats, which I missed getting back to Europe, but that is another story.
Scones are really nice, and one can easily make them oneself and with jam you have a nice afternoon meal, but it isn't complete without the clotted cream and so I can't bring myself to make them. In Norway, the equivalent of scones, jam and clotted cream is waffles with jam and sour cream. Sour cream is nice, but I didn't manage to go back to it after having tasted clotted cream. It's like that with everything, once you get the taste for something better, you may never quite manage to go back to what you had. I now know my teas, my cream and also my jam, as it turns out jam isn't just jam either. There is over-sweetened low berry content jam with an icky taste of preservative with God knows how much pesticide in supermarket shelves, and then there is homemade wild raspberry jam so flavorful you'll just eat it out of the jar with a spoon. I said in my last post about berries that I didn't have a favorite berry, but now that I have thought some more about it, I will pick one. I choose the wild raspberry. Why? Firstly, because they are wild, organic, and only to be found off the main tracks where you can pick them in peace and quiet. Secondly, because they have that unique and unbeatable combination of sweetness and acidity, which no other berry can boast. With many berries you want to add sugar or cream, but this is not the case for wild raspberries, which I only want to eat raw and pure without any distracting additions. In Norwegian we have a word for this combination of sweet and sour calling it sødme, for which I fail to find a suitable English translation. I wonder why the combination of sweet and sour create such a feast for my taste buds. I guess it's about balancing contrasts, which the wild raspberry is the undefeated master of. If you've never tasted wild raspberries, you won't know what you're missing of course, but once you do, you may not want to go back to the various domesticated garden versions. In a similar way, if all you knew were the Willoughbys and Wickhams of this world, you'd sadly not realize there were Darcys and Colonel Brandons in this world either. However, I have learned my jam and Jane Austen lessons and know what to look out for. I think it's time for a tea break now, and when time allows, I'll sit down with a nice cup of tea and re-watch my Jane Austen DVDs for like the nth time.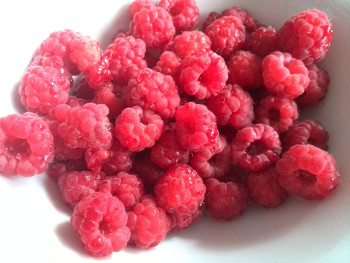 Wild raspberries. Best ones ever!